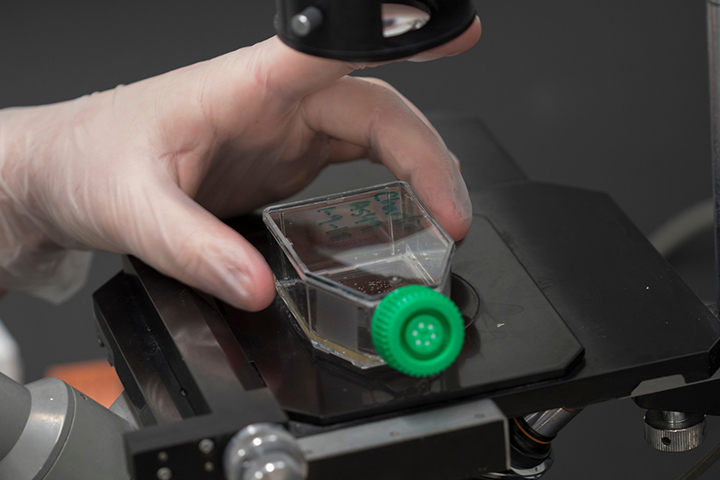 Biology students and faculty are doing cutting-edge research – from using fruit flies to determine why individuals diagnosed with Alzheimer's disease develop sleep deprivation, to discovering hydrogen-producing bacterium that might one day be used as an alternative fuel source.
The program emphasizes research designed to understand responses and adaptations in biological systems at cellular and molecular levels as well as at the community and ecological level.
Research interest areas include:
Biomaterials
Cell biology
Energetics
Freshwater ecology
Microbiology
Plant evolution
Sleep
Stem cell biology
Toxicology
The biological sciences program has a particular strength in interdisciplinary research. The Center for Statistical and Computational Modeling of Biological Complexity, which is run out of the department and directed by Dr. Ron Frank, associate professor of biological sciences, is a research incubator designed to promote collaboration to answer fundamental questions related to biological complexity at all levels. In discovering patterns, researchers hope to understand and better address health, industrial and environmental problems. The center draws on researchers from biological sciences, mathematics and statistics, computer science, and engineering disciplines.
The department also conducts interdisciplinary research in the areas of:
Biomaterials, in collaboration with the Materials Research Center
Environmental toxicology, in collaboration with the Center for Environmental Science and Technology, and the Environmental Research Center
Bio/phytoremediation, in collaboration with the Environmental Research Center
Over 10,000 square feet of research space in Schrenk Hall is at the disposal of biology students, as well as a study lounge, a conference room, and several core facilities. Core facilities include a microbiological prep room, vivarium, and imaging center.
The department also manages the university's Animal Research Facility, which provides access to vertebrate animals for research. The 1,780 square foot facility includes colony rooms, a room for sterile surgery, a cage-washing room, and other support rooms. The recently renovated facility complies with all applicable Public Health Service and USDA guidelines for maintenance of vertebrate animals for research.
Major pieces of equipment in the department include an Applied BioSystems model 3130 Genetic Analyzer for DNA sequencing, AFLP analysis and other fragment analysis applications, epifluorescent microscopes with CCD cameras and digital imaging software, high speed centrifuges with fixed angle and swinging bucket rotors, laminar flow hoods, microcentrifuges, gel dryer, evaporative centrifuge, thermocyclers, electroporator, protein and DNA gel-electrophoresis units, UV cross-linker, semi-dry and submarine nucleic acid/protein transfer units, numerous general use incubators, growth chambers, shaking incubators, UV-trans-illuminator, assorted teaching and research microscopes, nanopure water purification system, UV-Vis spectrophotometers, scintillation counters, microtiter plate reader, semi-automatic cell-harvester, media prep room with autoclaves, -70°C freezers, and automated media dispenser. Equipment for environmental microbiology includes a Coy anaerobic glove bag.